This week we explored the theme of The Scarcity Matrix in our Bloom Pause sessions. Bloom Pause is a community offering that meets remotely using Zoom. Each week we explore a new theme through discussion, sharing, meditation and practices to improve daily life.
BLOOM PROMPT:
Watch for the tendency to worry about the worst case scenario, or to focus on or react to the brokenness or wrongness of things... or to worry about brokenness in general. This focus will absolutely tank your mind and moodset as well as your trajectory for manifestation. It blocks flow.
Instead, consciously bring your awareness to appreciating the simplest things... This looks like this:
Thank you sun for rising and setting.
Thank you soil for allowing new growth.
Thank you heart for beating and blood for flowing.
Etc.
This week, MindBloom Monday, we will focus on transforming and transcending The Scarcity Matrix (Mindset and Moodset of not enoughness driving the trap of more being the solution …) into a truly empowered experience of yourself and what's possible. It also focuses on your relationship with Money through the lens of what we focus on expands and if we experience our relationship with money through what I call the scarcity matrix, we block our abundance. Manifestation is a skill set and practice which we will also bring awareness to. Mindset Monday starts at today 3:05 PM ET - our usual Bloom Pause time. Same Zoom info apply.
We'll start with celebrations.
Invite sharing a challenge if you have one.
Bring consciousness to your heart's desire for cultivation this week and in your life in general...
And, call in a quality of Self for focused support... such as compassion, clarity, calm, courage, connection, creativity, confidence, creativity …

Sharing at the end …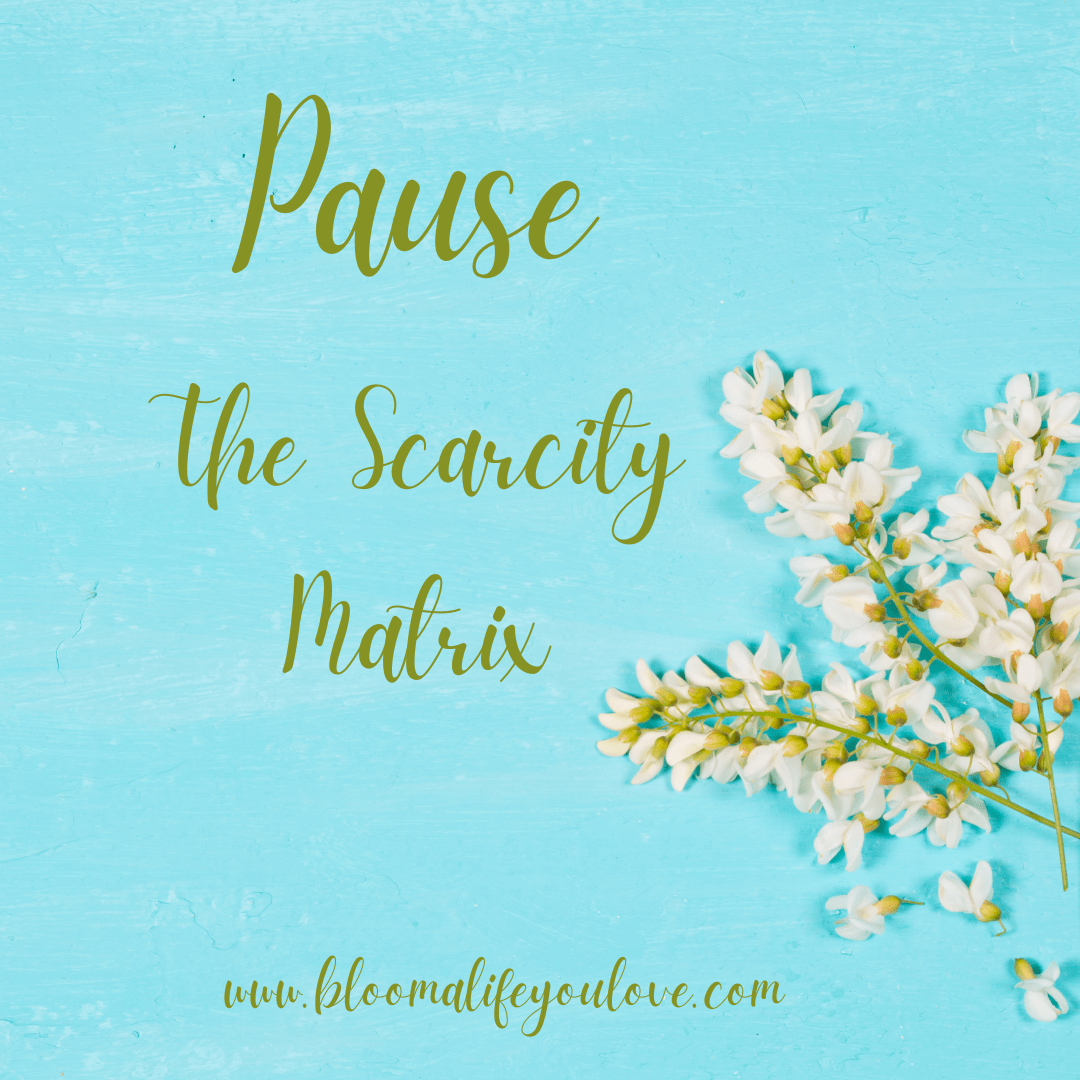 I also offer this mindset and moodset practice reminder from last week: The mindset and moodset ( or safety strategy or defense mechanism) of foreboding joy is a powerful joy, vibe and manifestation tanker.
Something really spontaneous and beautiful happens that makes you feel great and then the next thing you know your mind has moved to trying to control it, secure it or has found the worst case scenario of the situation or another negative possible outcome has caught your attention. This is waiting for the other shoe to drop. Or, this is worrying that something terrible will happen - most often when things are actually really going great! The truth is, it's vulnerable to allow ourselves to feel good, let alone allow ourselves to feel authentic joy.
To feel the goodness and sweetness of joy requires letting go of the natural survival strategy of looking out for danger to make sure we remain safe or try and prevent something unsafe from happening. But, what unfortunately can happen when we orient this way, is that we end up orienting through fear, finding danger and living in that state of mind that I call the scarcity matrix. This takes us out of the present moment where the magic is possible.
One thing we can do to cultivate rewiring this tendency is to focus on having appreciation for things that are going, running, being, working, as they are … the All is Wellness of so many things is literally infinite. There are literally countless opportunities each moment to bring our awareness consciously to opportunities for joy. Watch for this... and practice this … and see the result.
INTENTION / ATTENTION … What you focus on expands...
What's your intention for this week?
How will you bring your attention to this intention?
And … Super excited to offer the Create a Vision Board Session for Saturday April 3 from noon to 2:15 PM ET. See the flyer below. What growth would you like to bloom? Create a vision - a board, a statement and or a mantra to inspire this creation. Join us for this community event. Register here.